Dr. Lon Randall opened St. Francis Veterinary Hospital in 1997 and has served on various veterinary-related organizations, including the Louisiana Board of Veterinary Medicine. 
Book An Appointment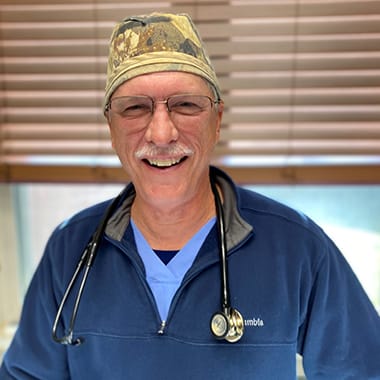 Dr. Lon Randall
I graduated from Baker High School in Baker, LA in 1980 and graduated from the LSU School of Veterinary Medicine in 1989. I practiced mixed animal medicine for 2 years in Dunn, North Carolina, then practiced for 2 years at the Greenville Animal Emergency Clinic (GAEC) in Greenville, South Carolina. During my 2 years at GAEC, I was also a relief veterinarian at numerous local clinics.
I moved to Lafayette in January 1993 to manage, practice and start the Lafayette Animal Emergency Clinic (LAEC). I purchased LaCour-Pinhook Veterinary Clinic from Dr. Ray LaCour and opened St. Francis Veterinary Hospital on January 2, 1997. I have two sons, Jacob and Tyler. My wife is Dr. Blythe Lyons.
I have served on the following veterinary-related organizations: the folder review committee for veterinary school applicants at LSU-SVM, the LAEC board of directors, and the Louisiana Board of Veterinary Medicine.
I currently attend Our Savior's Church in Cade, LA, and am the head coach for the Westminster Christian Academy boys' high school soccer team.